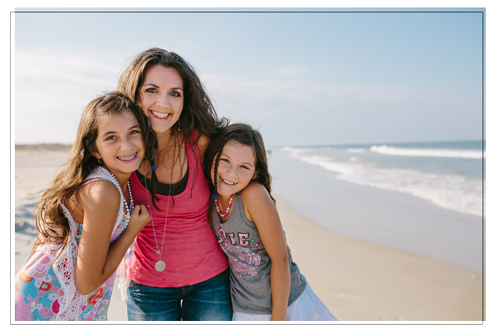 A LITTLE ABOUT ME . . .
I am a daughter of God, wife to a wonderful sweet man, Billy, and mom to 4 little kiddos (oldest is 10, youngest is 6!).  I have a very full and blessed life, to say the least!  The days of a full time mom start before 6:00 a.m. and don't end until after 10:00 p.m.  That's a FULL TIME job!  I became a pastor's wife in 2007 when Billy left civil engineering to become a full-time pastor and was formerly on staff at a church as the worship leader/music director.  I have also added "homeschool mom" to my list of responsibilities when I started teaching the girls at home in 2010.  Of course, it has now extended to teaching all four of our little people!  It is an exciting challenge, and I wouldn't change it for the world.  In October of 2010, we found ourselves on a new God-journey and landed near Charlotte, NC.  We were blessed to be on staff at Southbrook Church with Billy pastoring the Student Ministry as well as other areas!  I am so excited that God has prompted our hearts to return to FL – although north FL this time! – to launch Awaken City Church.  It's a lesson in faith and endurance, and one that I wouldn't trade for anything!  What better lesson for our children than to see us follow the Lord's call even when it means picking up and leaving everything secure in our lives!
I am a worship leader at heart, although I "retired" from my church worship "job" (in May 08) during this little-people-season in my life so I could be their mommy full-time!  I love to sing and play guitar and hope to be able to pass these things along to my kids.   They already have a love for music, so it is important to continue to foster and develop that interest and allow it to manifest through worshiping our Creator!  I am also an artist at heart and that tends to manifest itself in different ways… I love to take photos with our Nikon D7000 and give them an artistic flair as I edit them in Photoshop.  Every photo is like a unique work of art for me and one that I treasure.  Most of the pics are of my family, and I just can't help myself!  I also love to design anything digitally — websites, prints, invitations, cards, etc. and post most of my creative musings over at www.kellijoy.com!   I love to draw and paint as well, but I just don't do that as much these for lack of time… and lack of space!
My college degree is in Computer Information Systems and I guess it shows, since I'm pretty much a technology junkie.  My husband Billy and I certainly have that in common!  I love blogging, updating my website and certainly wouldn't be the same without Facebook!   And let's not forget internet research (on pretty much anything)!  Between our iMac, Mac Mini, Billy's MacBook, and the iPad we have plenty of ways to get online and feed our "need" in this house.
I guess to balance out the artistic and technology side, I also enjoying pursuing a healthy and active lifestyle.  Several years ago Billy and I completed the Maker's Diet (by Jordan Rubin) and it changed the way we looked at food and our health!  This journey also led me to pursue healthy alternatives in other areas in our lives (and kids' lives) and so I became passionate about thing like cloth diapering, natural and holistic medicinal remedies, natural/organic body/skin/hair care and even natural childbirth.  We stay active and fit through running and working out (currently with BURSTclub or Insanity or P90X) and try to maintain healthy eating habits (mostly!).  I've been able to run three half-marathons (at Disney in Orlando) and Billy has already run 10 marathons (not including several half-marathons and triathlons)!  Even when we're not exercising we love being outside playing, hiking or splashing at the pool.
I am thankful for so many things, but mostly the love of my Savior – Jesus – who died a brutal death on a cross so that I might have eternal life, and then rose again – the ultimate triumph over sin and death!  It's a comfort knowing that He is always in control and loves me (and my family!) unconditionally!