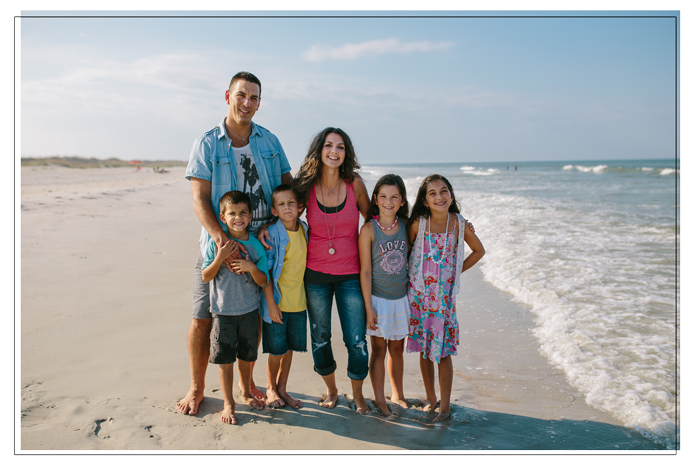 Summed Up
We are a mix of fun, determination and laughs! With the addition of our four crazy little people (ages 6 through 10!) we have graciously added 'parents' to our titles as well.   We homeschool all four little people, so there is rarely a dull moment around here!
While trained as a civil engineer, Billy has been in full-time ministry since 2007 in various capacities as a student pastor, creative pastor and even family pastor.  Kelli spent some time on church staff as well as the worship leader/music director.  Most recently, after spending some time on staff at Southbrook Church near Charlotte, NC, (for the past -almost-5 years), God has called us on a brand new journey!   This spring (2015) we landed in the beautiful city of St. Augustine, FL, to begin the process of planting a new church!  Awaken City Church will be launching at the local Epic theater in January of 2016 and we couldn't be more excited about our new adventure and the people He has already connected us with!  It's been a heart awakening over the past two years…hearing God's call to go 'out' and then finally seeing Him bring us to this specific time and place!  We know He will do great things in this city. ❤︎
Feel free to check out our other sites as well:  www.billyalmaguer.com (Billy's blog about life and ministry) and www.kellijoy.com (Kelli's creative/photography blog) to see what else we are up to!
---
How We Met (from Kelli's perspective)
It was 2001 and I was in my 26th year of single-ness… enjoying the late-night coffee rendeveaux's with friends, working 8-5 in a great job, spending lots of time doing ministry, and pretty much just enjoying lots of freedom. I was involved heavily with the young adults' group at Christ Fellowship – singing on the worship team, coordinating lots of the social outings and events and helping run the prayer ministry. It was a great time in life and I was pretty sure at this point that I was going to be single forever 🙂 Doesn't everybody say that right before they meet "the one"??
Anyway, Billy moved to Florida in '99 and started coming to Christ Fellowship shortly after. I, of course, don't remember meeting him until early in 2001 at our young adults Bible study (Monday nights). I remember that he seemed very quiet and reserved — although at that point I hadn't spent a great deal of time getting to know him 🙂 In March of that year, my sister came down for a visit (her spring break) and so I set up a "beach day" to try and get a bunch of the singles together on Jupiter beach. Unfortunately, the weather that Saturday looked omninous and only a couple of us showed up. Billy was one of those people. I think Billy got there just in time to see the storm clouds roll in. We chatted for a bit and then realized we better go! He was driving his jeep and the top was down, so we all made a mad-dash to the vehicles as the rain started coming down hard. Since the weather south of us looked better we decided we would try again at another beach. Unfortunately, the weather that day just didn't cooperate, so we never really did get to hang out. Interestingly, after we left the beach that day, my sister piped up and said something like "What do you think about that Billy guy? I could see you two together." I was floored. First of all, my sister never says things like that and secondly, she had barely even spoken to him. Well, after that day life just kept on as it usually did and I only saw Billy here and there on Monday nights at Bible study.
My next real memory of "us" was at a party at my friends Dave and Tony's house. There were quite a few people there and Billy was one of them. Somehow we ended up in the same corner of the room and so we started talking. By the end of the night we had exchanged IM addresses… and the week after we began our daily online chats. Of course, we should have been working, but we enjoyed getting to know each other in cyberspace. I soon found out that Billy was anything but quiet and reserved. He was really funny and outgoing!~
Our young adults group planned a mission trip for that summer – in June I think – and both Billy and I ended up signing up for it. We were headed to the Dominican Republic for a week in order to help the people there build a new church. We also helped run vacation Bible school there for the children. We stayed at a "camp" about 45 minutes from our job site.. so every day we piled into an old school bus (no a/c) for our daily trek to and from the church. Billy and I started to sit together there and back each day — doing lots of talking, flirting and goofing off. The whole week was amazing… Not only did we get to work alongside great people, Billy and I got to spend a lot of time getting to know each other in a pretty simple environment. We spent most of our days making, mixing, and shoveling concrete. We were filthy, tired and sore. We only had electricity at the camp for a few hours when the generator ran at night.. we took showers under a single stream of cold water.. Needless to say, make-up, hair and appearances in general just weren't priorities. Billy saw me in my rawest, most unkemp form. It wouldn't get worse than that!
After getting back to the states on a Sunday, Billy and I decided to head to the beach to hang out and relax. We exchanged phone numbers and pretty soon we were calling each other every day. Billy invited me out on our first date and we went to an awesome restaurant – Sugar Cane Island Bistro – for some amazing food. Afterwards, Billy took me to the beach with sparkling grape juice and plastic wine cups 🙂 We had a great time.
We dated for almost a year when we planned a trip in May of 2002 to Puerto Rico. Our friend Jose (Billy's roommate) is from there and his dad was going to host us for a week while Jose gave us a tour of the great island. What made the trip even more fun is that my sister Emily and our friend Tony came along as well. We were quite a 5-some and we enjoyed every minute of the trip. I could write a whole story just about the amazing time we had. The first Sunday we were there, after dinner, Billy and I went for a walk on the beach. Pretty soon we stopped and Billy started asking me what seemed to be random questions about my future. 🙂 I sensed that he was getting nervous and then all at once he was down on one knee on the sand at Rincon beach in Puerto Rico asking me to marry him. I was totally thrilled and immediately said yes. It was amazing knowing that God had brought this amazing man into my life – perfect for me in every way – and now we would spend the rest of our lives together.
We set the date and started making plans! We got married at Christ Fellowship on November 2, 2002 (11-2-02 all prime numbers which makes Billy happy) and had our reception at the place we had our first date – Sugar Cane Island Bistro. It was a perfect day with close family and friends. We spent one night on Palm Beach at a Bed and Breakfast and then Jose drove us down to Miami where we left on a 7 day cruise. We had a great time relaxing and eating lots of food 🙂