Here I am again with another breakfast recipe!  It's such an important meal, especially around here, since it sets the tone for the day.  Our cereal "habit" is a thing of the past and instead of being a main-stay in our morning routine, it has become a special treat.  Even then we still stick to healthier, low-sugar, whole grain varieties. 🙂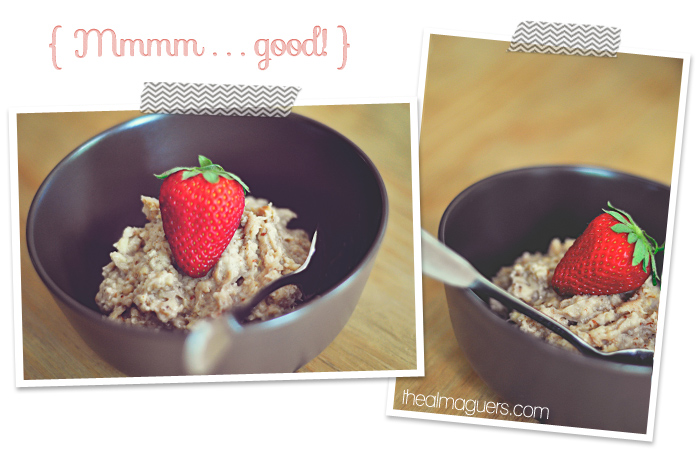 We have been consuming a decent amount of soaked oatmeal over the last several months (at least twice a week) and I have continued to add to/change/tweak my "formula" until I think I have something we all like (well, all except Myleigh…not sure what's up with her!).   Oatmeal is actually pretty basic and is so much healthier than "cold" cereals!  Soaking makes this breakfast exponentially more nutritious (and good for your teeth!).  If you are new to soaking, click HERE to get started.  In a nutshell, allowing the oats to soak in an acid medium like yogurt for up to 24 hours allows your body to truly absorb all the nutrients in the grains instead of giving them *up*  to digest it!  Losing essential vitamins and nutrients in the process of digesting grains can contribute to tooth decay and leaves your body deficient instead of recharged.  We definitely notice a difference in how our digestive system feels after eating soaked v. non-soaked grains.
The soaking process definitely gives the oatmeal a mild, pleasant tart taste, and the more we eat it, the more we like it!  Even Billy has started enjoying it… and oatmeal certainly hasn't always been his "thing".  I use buckwheat flour for the soak because it adds great flavor, significantly reduces the "gummy-ness" factor and keeps breakfast gluten-free, while still helping the oats to break-down the phytic acid!  Add-ins like flaxmeal, finely shredded coconut and coconut milk pump up the health benefits even more!  Mixed with a little vanilla, cinnamon, butter, honey and maple syrup, it starts to taste a little like a cinnamon roll.   I've even thrown a little cocoa powder in from time to time too, upon a child's request! 🙂 Very tasty topped with sliced fruit too!
I have started looking forward to oatmeal mornings, especially knowing how good this is for our family!  Below you'll find the "recipe" that I've been using on a regular basis.   Download and print the recipe card on some cardstock (make sure to print at 24% if you want it *exactly* 3×5 recipe card size!), trim and add to your collection~!  P.S.  This recipe makes enough oatmeal for each of us to have one normal-sized bowl. 🙂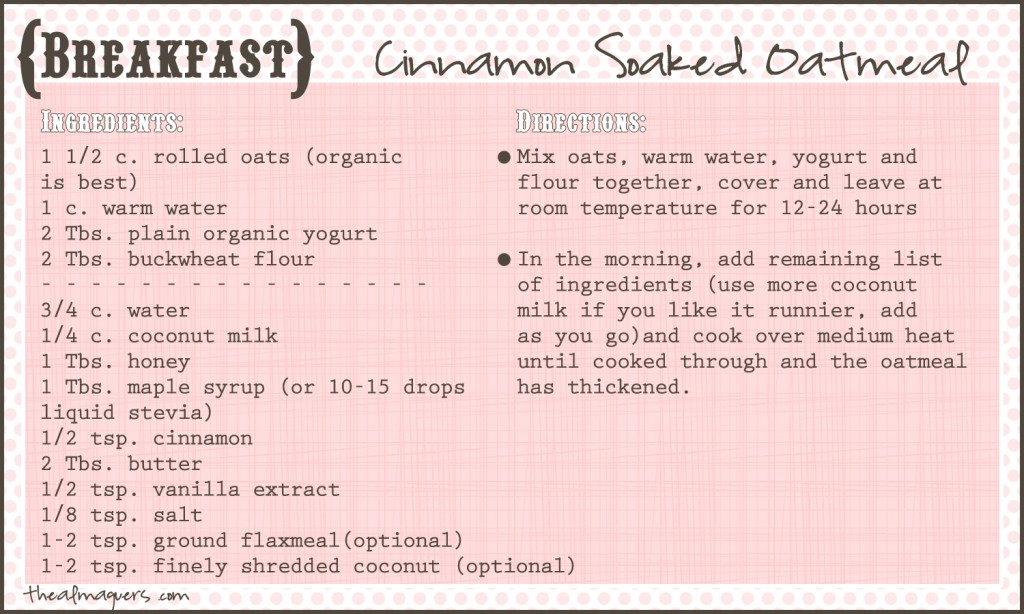 [Click on the image to open full-size… great for accessing on the iPad too!]