It's time for another food post!  Of course, it's related to breakfast again — our favorite meal around here!
I've been making these muffins for awhile now and the kids really like them (Kinley actually begs me to make them)!  They have a perfect moist texture and lots of flavor without any of the gluten… and using some stevia helps to lower the sugar content!  I think the combo of the oats and the coconut flour really make for the fantastic texture!  It really is hard to tell these from the glutenous versions you might be used to.  They are in the breakfast line-up at least once a week!  Full of lots of healthy fats,  fiber, and fruit they are a great, filling breakfast or snack.  Use organic (or grass-fed) butter as often as possible to add extra nutrition and avoid the nasty/toxic hormones fed to commercial cattle.  And to add some variety, feel free to throw in some walnuts or berries too!  You could easily make these dairy-free as well, by using applesauce in place of the yogurt and all coconut oil (instead of the butter).  Either way they'll be delicious!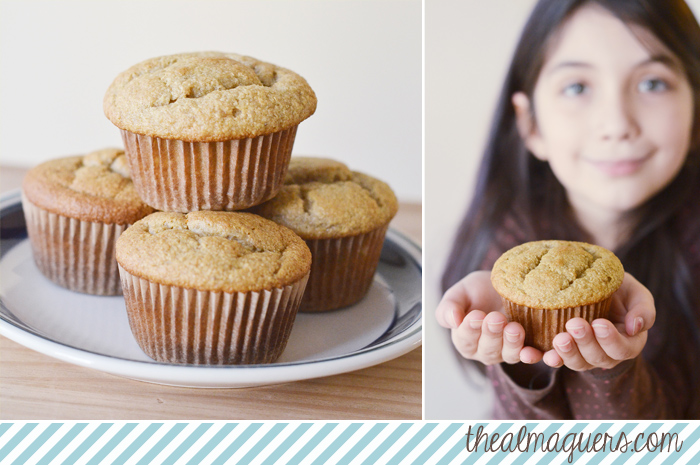 I hope you enjoy these as much as we do!  This recipe yields between 12-15 muffins depending on how full you fill them!  Feel free to download and print the recipe card (keep it at 24% size if you want it to be the exact 3×5 card size) and enjoy!